Last November, the BOD and high-level managers of NTQ Solution met and discussed with many local company owners during a business trip in Korea. Thanks to those meetings, NTQ Solution gained more profound insight into the needs and interests of customers in this market for better collaboration.
1. Korea has high expectations for cooperation with Vietnamese companies
The comprehensive strategic relationship between Vietnam - Korea brings opportunities and strengthens legal support.
In Korea, the lack of high-quality employees is a hot topic for many Korean companies, which limits their competitiveness and growth rate. Therefore, collaboration with Vietnamese high-tech enterprises is an effective solution for them.
Mr. Pham Xuan Duong - Director of OS8 Manufacturing Center (NTQ Solution) - shared after discussing with nearly 20 C-level executives in Korea:
"Korean companies are still wondering about Vietnamese competence to meet their demands. However, they highly expect to accelerate their cooperation with Vietnamese firms. With NTQ Solution particularly, they are impressed by the company's competence and willing to collaborate more, including with experiences sharing and tech-transfer training".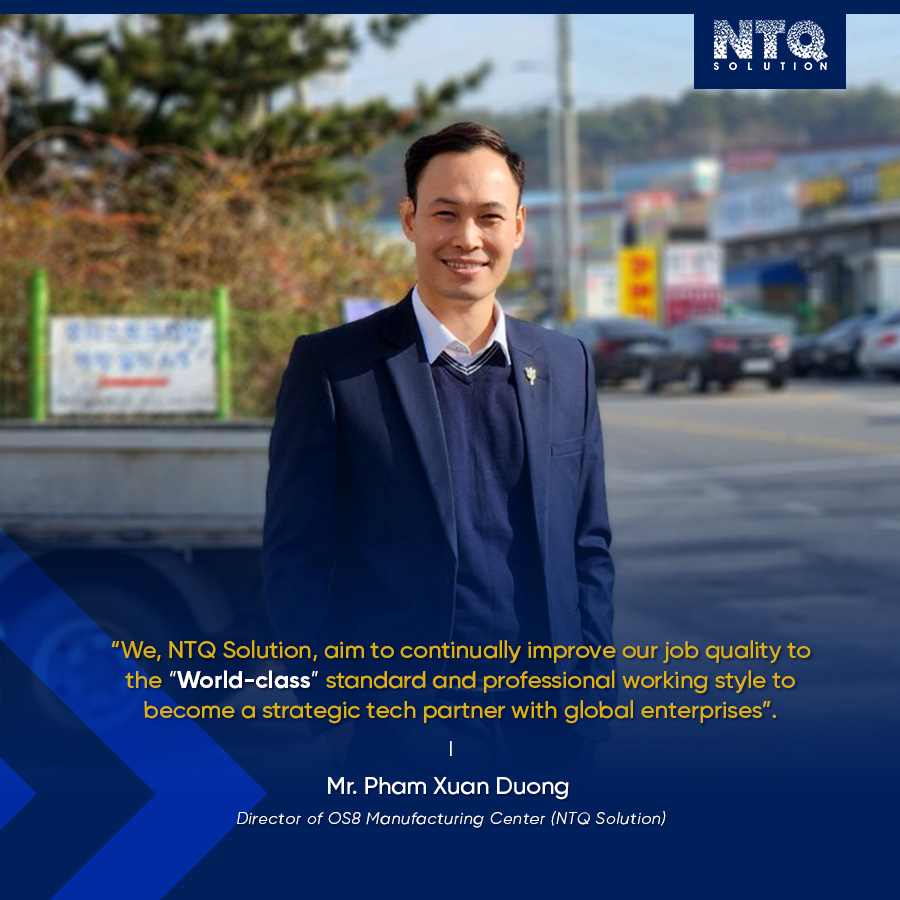 Through this trip, he learned more about the customers' needs in software development, leading him to build more appropriate business plans.
"Korean emphasizes the importance of flexibility, speed, and a never-give-up spirit. They always give their best to increase job productivity and quality, thus, set more challenging targets consistently. And that's why we, NTQ Solution, aim to continually improve our job quality to the "World-class" standard and professional working style to become a strategic tech partner with global enterprises".
According to Mr. Duong, NTQ Solution focuses on studying, updating, and applying top-notch technologies and new solutions to bring Software Development services to the next level. Besides, improving the Korean ability of the engineering team and developing BA teams are key plans for the next few years.
2. Vast opportunities to export Vietnamese human resources to Korea
The shortage of high-quality employees is a severe problem many Korean companies face, especially SMEs. Hence, many firms are hiring foreign personnel, and Vietnam is considered an attractive labor-supply market with a massive young workforce and an affordable price. Nevertheless, we lack a bridge to connect Vietnamese employees and Korean hirers.
Talking about this topic, Ms. Nguyen Thi Bich Hue - Director of RECO, NTQ Solution's subsidiary in hiring tech employees - shared her opinions:
"Workforce problem is a significant barrier in many units. After meeting a lot of Korean high-level managers and holding a small workshop at Chung-Ang university about job opportunities, I realized many students were vague about orientations and didn't know what to do to improve themselves to meet the company's needs. Due to that, they are losing their competitiveness".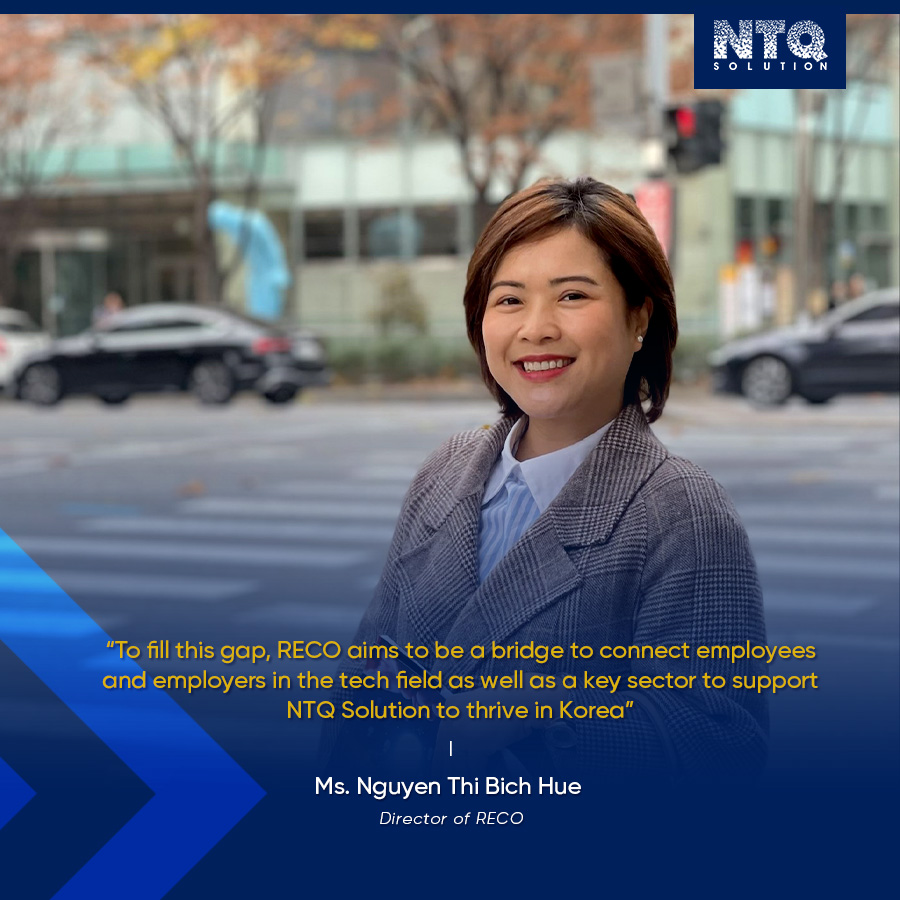 To fill this gap, RECO aims to be a bridge to connect employees and employers in the tech field as well as a key sector to support NTQ Solution to thrive in Korea.
Sharing the plans, RECO would expand human resources in Korea by connecting with Vietnamese students. Thanks to their language skills and academic knowledge, they will become potential workforce after being trained intensively. Besides, RECO will cooperate with NTQ Korea to organize more workshops and exhibitions for employees and employers.
3. 2023 is promised to be a great year of the Vietnam-Korea partnership with the potential development of NTQ Korea
"Korean businesses identify Vietnam as a key market for deeper cooperation. Many leaders of enterprises have shared with me that they plan to send their engineers to Vietnam to work with NTQ Solution. Furthermore, they want to build development centers abroad with us to develop and operate tech products for their company", Mr. Pham Thai Son - CEO of NTQ Solution, said.
After many years of working with Korean firms, Mr. Son is impressed the most by the thorough working style of Korean, always setting high standards in everything. It's also the main reason to create a magical development for their country in the past few decades.
"During the trip, NTQ Solution was proud to cooperate successfully with three large companies: MW Networks, CapCloud, and Softbridge. This proves our competence and strengthens our foothold to achieve our goals in this challenging market. We are planning more intensive plans to become a trustworthy partner in the tech sector worldwide".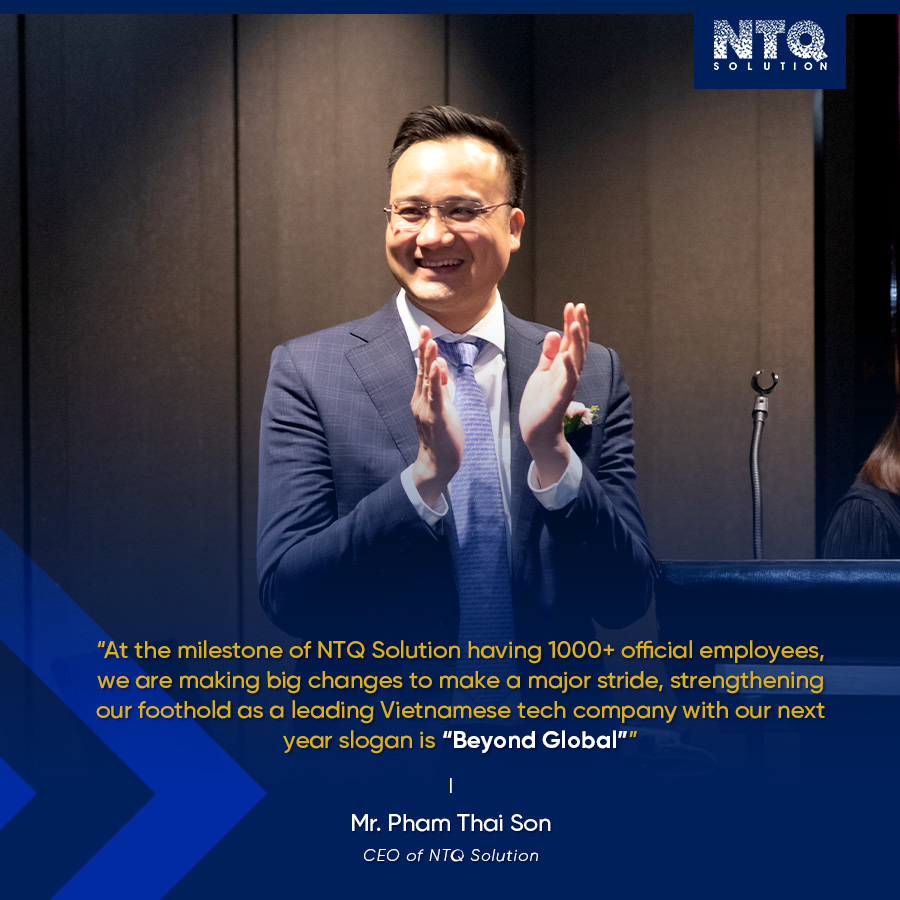 In Vietnam, NTQ Solution will implement more hiring and training programs to improve the teams' competence. In addition, a talented team will be sent to Korea to work directly with the customers.
"At the milestone of NTQ Solution having 1000+ official employees, we are making big changes to make a major stride, strengthening our foothold as a leading Vietnamese tech company. Our next year's slogan is "Beyond Global", aiming to thrive globally. On this journey, we are dedicated to spreading the strong "One team" spirit to a company with our customers, creating breakthroughs together and sustainable values".